Update: Collaborate 2020 will not be occurring as scheduled on April 19-23, in light of the recent Coronavirus pandemic. We shall keep you posted about further developments. Please refer https://collaborate.oatug.org/coronavirus. Till then, #staysafe. 
The event Collaborate 20 is the official event for Oracle users utilizing products and services of Oracle PeopleSoft, Cloud Database and applications, JD Edwards, and other technology products. The event is hosted by Quest Oracle Community (Quest) and Oracle Applications and Technology Users Group (OATUG).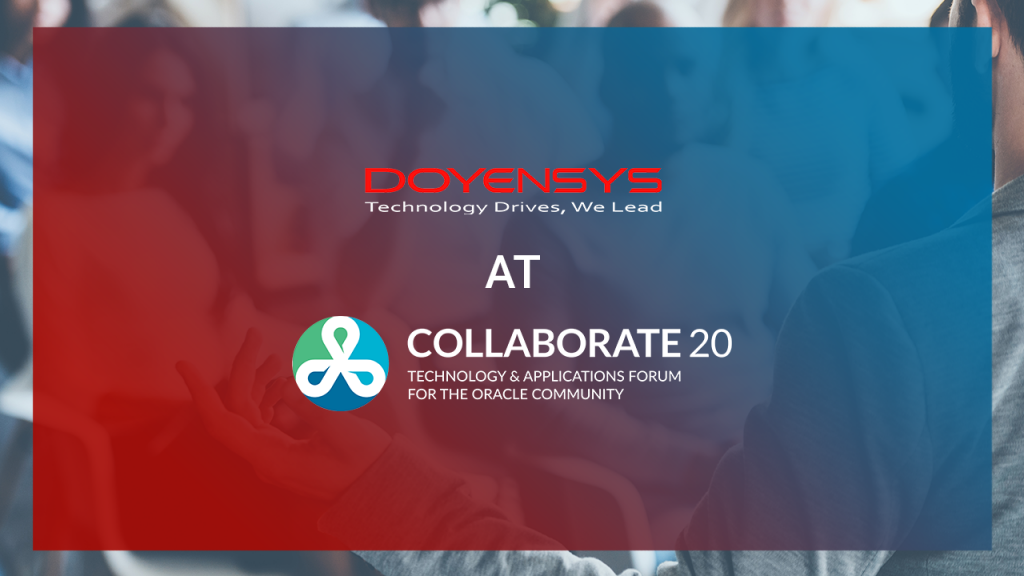 Doyens at Collaborate 20
Doyensys is a regular participant on this event where our talented Doyens present their papers over there. In Collaborate 20, Vimal Manimozhi, Archana Raghu, and Narasimha rao Karanam from Doyensys are going to present their papers.
Vimal Manimozhi: Vimal is Project Manager at Doyensys, having 15 years of Experience in Oracle Technologies. He is working with Doyensys for last 8 years. He has a strong project management skill in Fusion Cloud SCM, Oracle EBS, Fusion Rapid Implementation Design and Solution, BI Reports, and requirements gathering.
Archana Raghu: Archana works as a Project Manager at Doyensys. She has over 14 years of Experience in Oracle Technologies and is working with Doyensys for more than 8 Years. She possesses extensive knowledge and expertise on Oracle Cloud.
Narasimha Rao Karanam: Narasimha rao works as a Project Manager at Doyensys and has over 15 years of experience on IT as a Manager, Team Leader, Architect, and Database admin. He has extensive skills in Oracle EBS, managing projects, ensuring quality deliverables, and maintaining scope & SLA.
Collaborate 20: What is it?
Collaborate 20, the forum of technology and applications for the Oracle community is a live event that users create for users. In the event, decision-makers from IT, super users, developers and system administrators, and so on find real-time solutions to the present-day problem of business technology and learn future strategies.
Collaborate 20 assembles users who are in various stages of their technological journey whether they are optimizing their business to the cloud or evaluating their pathway to the cloud. The event aims to help users maximize their ROI from technological investments.
The event provides an opportunity to the users where they can access the leaders of Oracle directly. They can also benefit from over 1000 interactive learning sessions, an active show full of service providers of Oracle, and various networking opportunities.  
Why Attend it?
Doyensys has been a regular participant at Collaborate due to a multitude of reasons. We are again becoming a part of Collaborate 20, as the event provides businesses with a completely personalized and tailored experience that is rare to find. In this event, the actual users of Oracle extend their help to each other with the sole objective to maximize their value in Oracle investments.
The event Collaborate 20 will set a fruitful ground where businesses can hear true and real stories from the real customers of Oracle. It would enlighten their pain points and victories during their Oracle technology journey and encourage other businesses to help them solve their real-time problems.