Employees are the backbone of an organisation. With the right people, a company can not only achieve its goals but also surpass them. We want to thank our employees and introduce these solid pillars of our success in the world. This is a blog series where we will talk to them in a bid to know them better.
Prakash is a valuable contributor at Doyensys and is currently the competency head for EBS Technical. Despite his project management responsibilities, he is quite hands-on at technology and never shies away from helping his team members.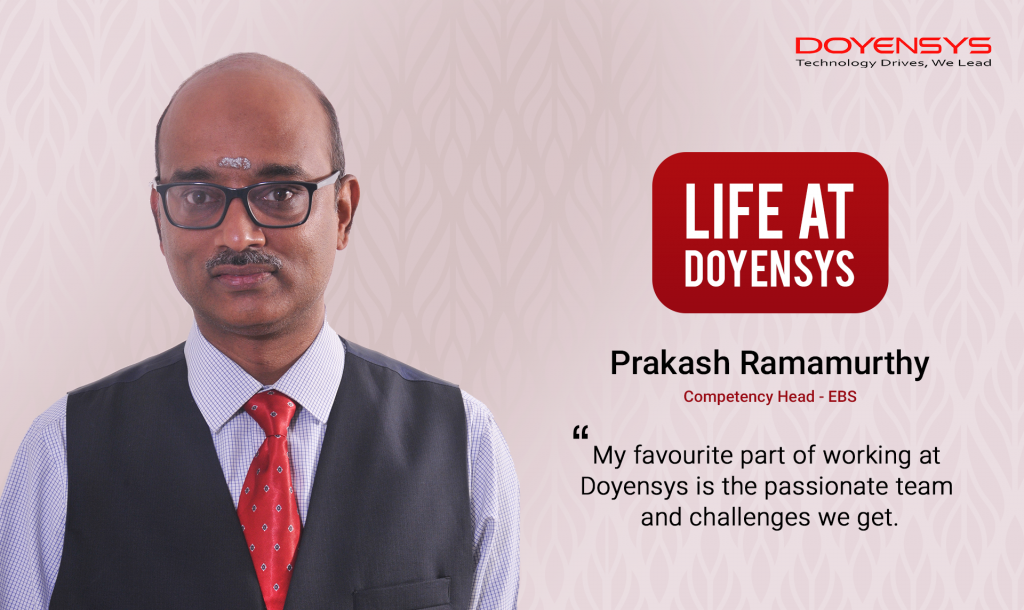 How long has been your journey with Doyensys?
5.5 Yrs.
What is your role at Doyensys?
As competency head – EBS Technical , my core responsibilities are more on resource management, customer management & project management. I also evaluate new prospects and opportunities.
What does your average day look like?
My typical day at work involves communicating with the customers, allocating tasks & holding reviews with the team. I also explore new opportunities and follow-up regularly.
Can you quote your favourite Doyensys memory?
I had a new experience when I was received with a flower bouquet on the first day at office.
I also hold the time when I received the Annual award close to my heart.
If you had to pick one aspect that you like the most about working at Doyensys, what would that be?
Passionate team at work and the challenges that test and enhance our competencies.
How do you contribute apart from work at Doyensys? (Eg: Contributing to Events, CSR Activities, Conducting Sports etc.)
I actively participate by sharing internal applications redesign suggestions and process improvement ideas.
What kind of a leader are you? How do you rate yourself as a leader and what do you do to motivate your team?
I try to follow an inclusive style of leadership. I do not hesitate to get hands-on with technology when the team is struggling.If the team is responding to my instructions then I assume the team is motivated.
What do you like doing when you are not at work? (Eg.: Shopping, playing games, etc)
In my  personal time, I am passionate about cooking & watching movies
Who do you look up to in your life – someone you would want to follow?
I generally pick-up good traits (or) get inspired by observing people's achievements & personality traits. They can be from my personal , professional & social circles.