Employees are the backbone of an organisation. With the right people, a company can not only achieve its goals but also surpass them. We want to thank our employees and introduce these solid pillars of our success in the world. This is a blog series where we will talk to them in a bid to know them better.
Prasanna has been working at Doyensys for the last 10 years. We are grateful for his contribution in leading our projects efficiently. He has a keen interest in expanding his knowledge base and motivates his team to do the same.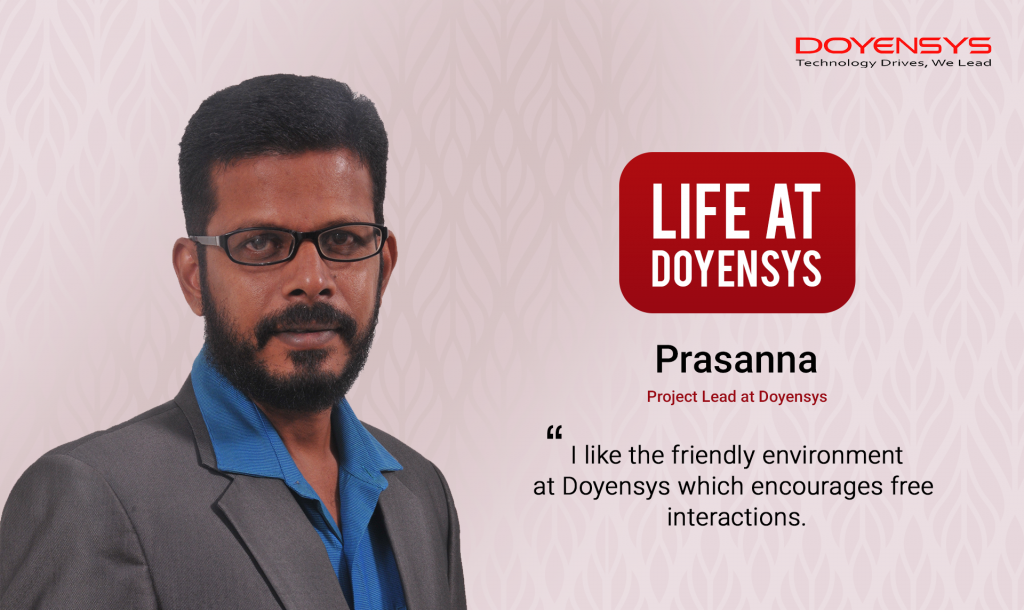 How long has been your journey with Doyensys?
I have been working here for 10+ Years.
What is your role at Doyensys?
I am the project lead in DBA practice.
What does your average day look like?
Its very interesting with support projects. I get to learn and expand my knowledge base through the interactions with my peers.
Can you quote your favourite Doyensys memory?
When the president worked with me for an entire day for a crucial project delivery.
If you had to pick one aspect that you like the most about working at Doyensys, what would that be?
The friendly environment and the fact that I can interact with all Doyens. The  fun and caring workplace atmosphere makes it all the more attractive.
What kind of a leader are you? How do you rate yourself as a leader and what do you do to motivate your team?
I am honest and transparent with the team. It has helped in getting the team's trust and they know they can come to me with their problems.
How do you contribute apart from work at Doyensys? (Eg: Contributing to Events, CSR Activities, Conducting Sports etc.)
I am involved in all the activities.
What do you like doing when you are not at work? (Eg.: Shopping, playing games, etc)
I like to watch movies, play badminton and read novels.
Who do you look up to in your life – someone you would want to follow?
It would be like combination of multiple personalities  based on the task.