Employees are the backbone of an organisation. With the right people, a company can not only achieve its goals but also surpass them. We want to thank our employees and introduce these solid pillars of our success in the world. This is a blog series where we will talk to them in a bid to know them better.
Having spent more than 10 years, Pushparaj is an important member of our Doyensys family. From the efficient way that he manages his team, he can certainly impart a few lessons in team management. He has a keen interest in yoga and meditation, and we get to see glimpses of that in our office activities.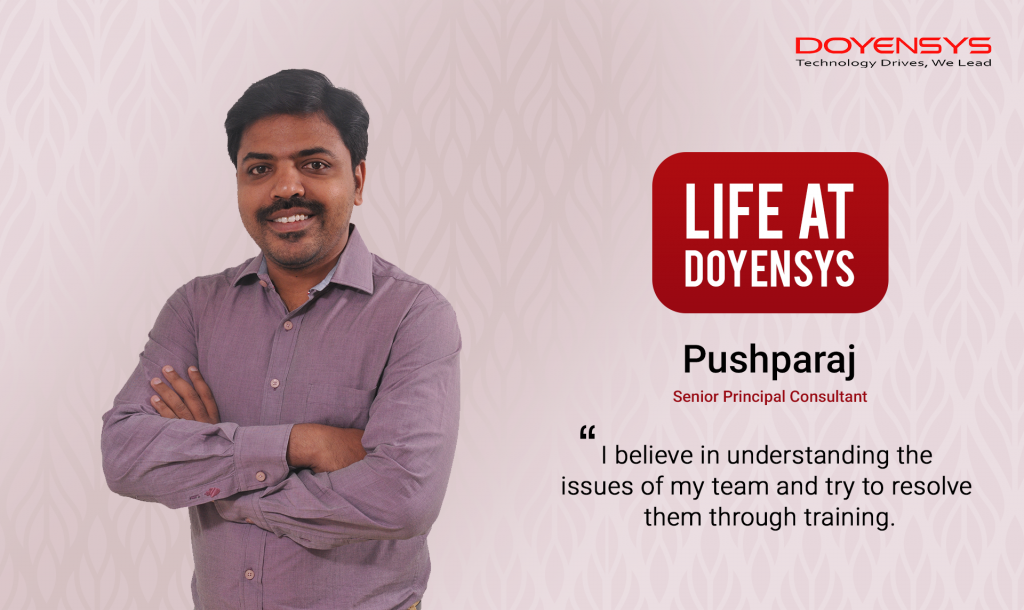 How long has been your journey with Doyensys?
I have been here for 10+ years.
What is your role at Doyensys?
Database Administration.
What does your average day look like?
My usual day in the office includes working on tasks that are required for supporting key projects.
Can you quote your favourite Doyensys memory?
I clearly remember the day when I received an appreciation from our CEO as the best performer, when I worked in Iron Mountain. I also enjoy the birthday celebrations and fun games which enthuse excitement in our office environment.
If you had to pick one aspect that you like the most about working at Doyensys, what would that be?
The friendly nature of office colleagues and a relaxed yet highly-productive environment is what I like the best about Doyensys.
How do you contribute apart from work at Doyensys? (Eg: Contributing to Events, CSR Activities, Conducting Sports etc.)
I frequently conduct Yoga sessions for all Doyens.
What kind of a leader are you? How do you rate yourself as a leader and what do you do to motivate your team?
I believe in giving support to the team and understanding their issues. I also try to actively understanding their training needs so that they can overcome their issues.
What do you like doing when you are not at work? (Eg.: Shopping, playing games, etc)
Yoga and Meditation.
Who do you look up to in your life – someone you would want to follow?
My Guru Siva Yogi and His Path.